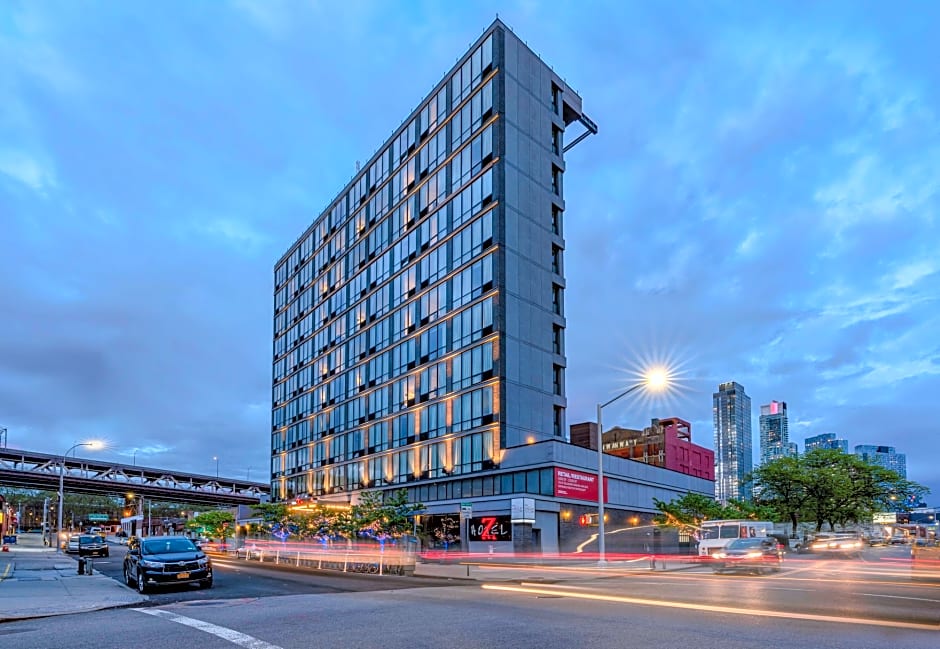 The Z New York Hotel is a fantastic 4-star hotel situated in Long Island City, just a 20-minute metro from New York's Times Square and a 10-minute walk from Queensbridge Park. Central Park and the Rockefeller are some of the popular attractions within reach by metro but there is also plenty to see nearer the hotel. The P.S.1 MoMa museum is a great place for an afternoon away from the hustle and bustle of mid-town Manhattan.

Each of the rooms is tastefully decorated with minimalist sleek furniture and contemporary fabrics, lending the hotel a cosmopolitan style. Comfort and modern design are elegantly combined to ensure guests enjoy a relaxing stay while at the Z. With a flat-screen TV, iPod dock and complimentary wireless internet access in all of the guestrooms, visitors are made feel welcome and at home.

A free shuttle service is offered from the hotel into mid-town Manhattan, a schedule can be picked up from reception. The restaurant serves delicious American cuisine, while the rooftop bar is a trendy place to relax and enjoy a tasty cocktail while taking in some terrific panoramic views of New York City.
ゲストレビュー
自分の意見や感じたことを教えるためにはこちらをクリックしてください >>
予約する方法
Z NYC Hotelで予約するのが簡単で安全でございます。ご希望の日付を選択します。そして、フォームを送信するために「料金を確認し」というボタンをクリックします。 客室タイプと料金はお宅の画面に戻った後で、画面の中央にある部屋の情報を読むと画面の右側にある「予約する」というボタンをクリックすることによって希望の料金を選択することができます。希望の客室タイプを選択した後で、「ご予約を完了」というフォームに転送されます。その時に「滞在の詳細」を確認して、「ゲストの詳細」という部分の空欄でご自分の詳細のことを書きます。ご自分の名前とメールアドレスが正しく入力されていることを確認してください。 すべての重要な情報を記入した後で、「ご予約を完了」というボタンをクリックしてください。ご自分のセキュリティを確保するために、私たちがクレジットカード番号を暗号化し、非使用可能な形式にエンコードする安全なコマースサーバーを使います。
地域情報
空港

New York, NY, United States (LGA-LaGuardia)

- 4.27 mi

Teterboro, NJ, United States (TEB)

- 9.38 mi

New York, NY, United States (JFK-John F. Kennedy Intl.)

- 11.42 mi

Newark, NJ, United States (EWR-Liberty Intl.)

- 12.73 mi

Caldwell, NJ, United States (CDM-Essex County)

- 19.25 mi

Morristown, NJ, United States (MMU-Morristown Municipal)

- 24.92 mi

ミュージアム

Abigail Adams Smith Museum

- 0.87 mi

Mount Vernan Hotel And Gardens

- 0.90 mi